21. June 2023
Jessica Clarin Lindberg at Molino PR
– You need to have heart and interest in what you work with!
Jessica Clarin Lindberg is the CEO and partner at Molino PR, a full-service PR and communications agency in Stockholm. An economist with a passion for fashion and brands, she has held several manager positions in the fashion industry throughout her career, in sales, marketing, and PR. Eight years ago, she partnered with Pim Molin Tegnér, who started Molino PR in 1999, and became co-owner. We have spoken with Jessica about the interplay between earned and paid channels and how to succeed with contextual advertising.
How do you work at Molino PR?
– We usually say that Molino PR is a small but big agency. We don't have many clients, but we have extensive, long-term client relationships. This allows us to deeply engage with clients and contribute to their development over time. We are a diverse team of six people, and all our employees are active across all clients. This ensures that various types of expertise, backgrounds, and perspectives come into play and enhance our deliverables. Molino PR is a full-service agency, which means we provide communication for all channels.
As a full-service agency, how do you view the interplay between PR and advertising?
– When we develop a marketing plan with the client, we consider how the interaction between the different channels can maximize visibility during the campaign period. We want it to be a bit of a "takeover." The client should be visible everywhere, all the time. Additionally, the content and timing must be good, and the communication must be synchronized across the various channels.
– We structure our campaign work into three levels. At the bottom, we have extensive paid advertising on large platforms like TV and outdoor. This ensures broad visibility and reach. Furthermore, we use Kobler's contextual advertising platform, which secures high-quality views and additional reach. PR is the sprinkle on top of paid visibility. When working with earned channels, we can't control the timing and content. Positive earned media coverage is a bonus that amplifies the effect of paid visibility. Working with these three levels in parallel gives the campaigns greater impact.
What is your experience with contextual advertising for clients?
– We have achieved fantastic results with our clients through contextual advertising. Contextual advertising provides solid reach, and with Kobler's platform, we also have full control over where and in what context our clients' ads are placed.
– Kobler provides cost-effective and precise advertising. This is especially relevant in a downturn when advertisers can't afford to waste money. With Kobler, there is also more flexibility to customize the campaign. You can quickly adjust the campaign setup and slow down or increase distribution as desired. We find the platform easy to use. We have several examples of clients who, after a while, set up and adjust campaigns in the platform themselves.
– We are satisfied with the follow-up from Kobler and have a good dialogue with our contact person, Philip. We often start new projects by sharing the marketing plan with Philip so that he can provide input. He is proactive and reaches out when he sees various opportunities and events. It helps us make the most out of contextual advertising.
What does it take to succeed with contextual advertising?
– My advice for getting the most out of contextual advertising is to set high creative standards. Both text and visuals must resonate and stand out in the sea of competing messages. I also recommend daring to experiment with different contexts. There are so many exciting contexts that may not be obvious that can create an interesting connection to the brand. New contexts can make the communication more interesting and impactful. It may also be beneficial to be flexible and play with various contexts in different campaign periods.
– Once the campaign is finished, it's important to measure its effectiveness. Kobler provides excellent reports, KPIs and insights. We synchronize the results with Google Ads to make a comprehensive evaluation of the campaign and provide reasonable recommendations for further work.
Do you have an example of a successful contextual campaign?
– We have been working contextually with our client MQ Marqet for a couple of years, which has given us ample time to test and optimize the contextual work. This resulted in the April campaign earlier this spring. We released campaign images and video materials in unisex, women's, and men's contexts. We increased reach, the number of sessions, stay time, and engagement compared to previous campaigns. The CTR (click-through rate) was high, especially for fashion, where we broke all records, indicating that the material worked extremely well. In total, we achieved approximately 4 million impressions over a campaign period of about 2.5 weeks.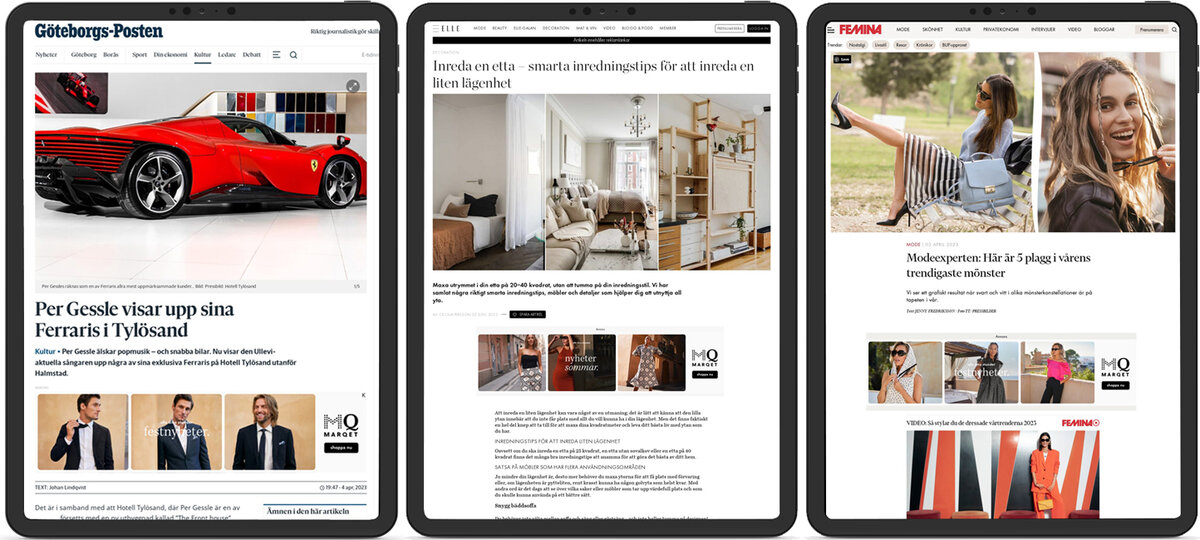 Contextual advertising with MQ Marget.
Finally, we would like to tap into your extensive industry experience. What is your best tip for succeeding as a marketer?
– Be curious. Never stop looking for ways to create better results for your brand. Dive into the issues, the connections, the causes, and the results. And demand excellence from yourself and those around you. This way, we continue to evolve ourselves and the brand. You need to have heart and interest in your work.

Do you want to know more about contextual marketing?
Contact us, and we'll help you get started!
Kobler
matches ads
with content
Do you have questions? Wonder how to start using contextual marketing? Contact one of our advisers!